This week (like most of the year so far) has been really busy! Work is manic (which is good) and when Mark and I are at home, it's spent with Luna, family and friends, which is also really good. I went pottery painting with my best friend Natalie yesterday. It's something we started doing about 3 years ago and have continued; I'm not artistic or creative in the slightest but I find it really enjoyable and relaxing. On this occasion I did a heart shaped plate which I decorated with painted-on bunting. I am so excited to see how it turns out once it's been glazed and fired!
Once I'd gotten home from painting pottery, I set to work on making my dough for this recipe. When I bake, I rarely make anything other than cake. But recently I've started to enjoy dough-based things; it feels like such an achievement when the dough turns out and bakes well.
I decided a couple of weeks ago that I wanted to make some kind of bun or roll, but I wanted to do something different to cinnamon so decided on Nutella. Nutella always makes me think of my sister
Lauren
. When we were younger she went through a phase of wanting to eat it on everything - biscuits, chocolate fingers, KitKats!
This recipe will make 10 rolls (depending on how thick you slice them). The recipe is adapted from
The Cookie Dough Lover's Cookbook
by Lindsay Landis.
Many bun recipes are baked in a sticky glaze, but I felt that Nutella is already sickly so I wanted to keep these simple. I also decided rather than making an icing sugar topping, I'd top these with a little white chocolate. If I was to make them again, I would top them with chopped Hazlenuts.
For the rolls
190ml soy milk (you can use cows milk if you like)
75g unsalted butter (room temperature)
1 packet fast action dried yeast
70g granulated sugar
1 large free range organic egg
1 teaspoon salt
420g plain flour
For the filling
200g Nutella, slightly melted
For the topping
50g white chocolate, melted
Dash of Rapeseed oil
Method
1. Heat the milk and butter in a saucepan over a low heat. When the butter is close to being completely melted, take the pan off the heat and stir until smooth. Pour the mixture into the bowl of your mixer, and leave until lukewarm. Fill a small bowl with 60ml lukewarm tap water and mix with the packet of yeast. Leave for around 10 minutes until it becomes frothy.
2. By this time, the milk mixture should have cooled slightly. Add the yeast and water to the milk and beat in the sugar, egg and salt. Add the flour a third at a time, mixing until incorporated. Switch the beater for the dough hook and knead for 5 minutes. If the dough is sticky add a little more flour until a smooth dough begins to form.
3. Lightly flour your surface and turn out the dough. Knead for around 5 minutes until it is smooth. Oil a large bowl, place in the dough and cover. Move to a warm spot to rise for 2 hours.
4. Once the dough has doubled in size, punch it down and turn it out onto a floured surface. Roll out until you get a rectangle that measures 10 by 18 inches. Melt the Nutella in the microwave and spread over the dough, leaving a half inch gap at the top of the long edge. Starting with the opposite long edge, roll up the dough as tightly as you can. Once you're done, fold over the ends. Using a length of dental floss (rather than a knife, as using a knife tends to squash the roll out of shape) cut into 1 1/2 inch slices. Place into a 23cm greased spring form pan. Cover with cling film and put in a warm place to rise for 30 minutes.
5. Preheat the oven to 180 degrees C. Bake for 20 minutes until the tops are golden. Remove from the oven and allow to cool for 20 minutes.
6. Melt the white chocolate in the microwave and add a dash of Rapeseed oil to loosen. Pour into a piping bag and cut off the very tip. Drizzle over the buns. Remove the springform side and serve.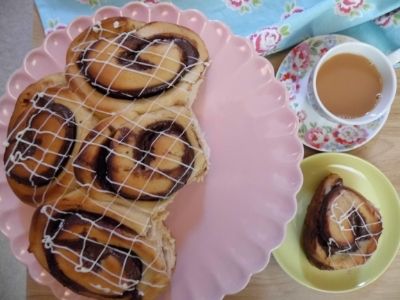 I am quite sad that it's Sunday already, weekends go by far too quickly. This afternoon my sister Lauren and her boyfriend Pete (who made my blog banner - clever boy!) came over for lunch. I made vegetarian chilli with green rice, tacos and tortillas and there is plenty of leftovers!