Sadly I had a hot cross bun nightmare last weekend. I found a recipe for some chocolate ones and when I was kneading the dough I knew it was wrong - it was really tough and wasn't stretching but I persevered. I should have listened to myself as they didn't work (hence why I didn't blog last weekend) but Mark still thought they were good, and has had them for breakfast every day this week. He's like my own personal cheerleader!
Baking Mad
got in touch to ask if I would like to recreate one of their
Easter recipes
. Imediately I knew I wanted to have a go at
Hot Cross Buns
. Mark is obsessed with them and has been since I've known him. He was over the moon with these. They are beautifully soft and made the house smell divine. There is just the right amount of spice in them and the chocolate chips are lovely and gooey when warm.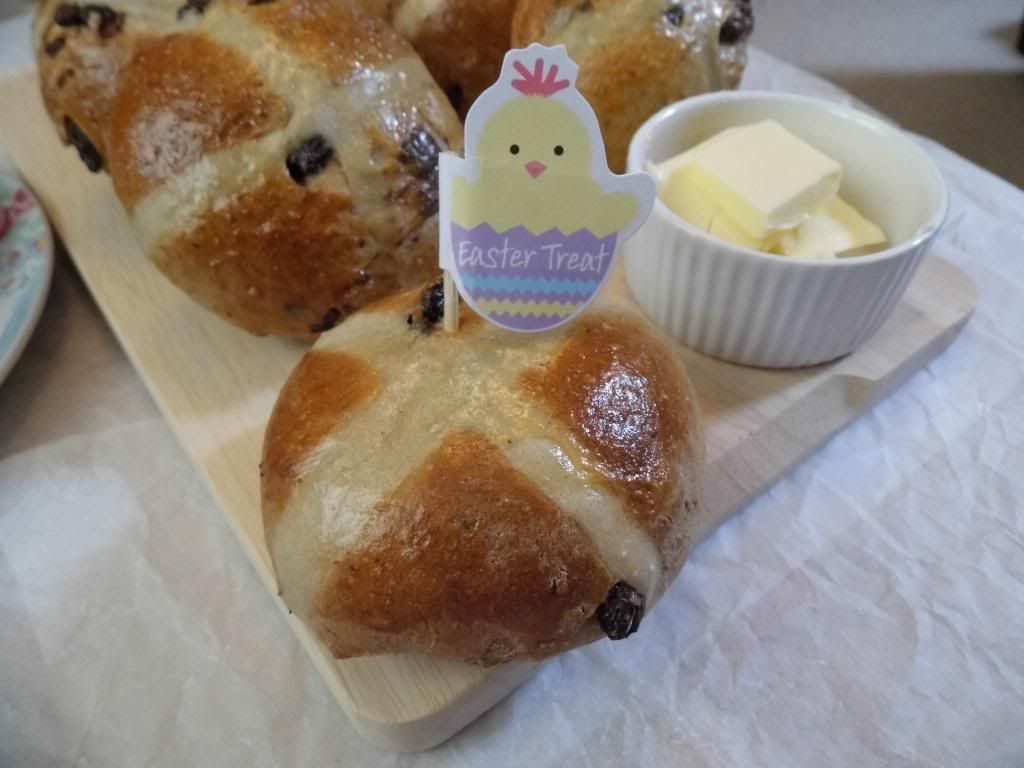 This recipe is from
Baking Mad
, however I have tweaked it a little bit. The recipe will make 10 large
Hot Cross Buns.
For the buns
250g strong white bread flour
250g strong wholemeal bread flour
7g sachet easy bake yeast
1 teaspoon mixed spice
1 teaspoon salt
50g golden caster sugar
250ml milk
50g unsalted butter
1 large free range organic egg
100g raisins
50g chocolate chips
To finish
1 egg, beaten
4 tablespoons plain flour, mixed with water to make a paste
Method
1. Place the flours, sugar, yeast, spice and salt in a bowl and set aside.
2. Gently warm the butter and half of the milk in a saucepan until the butter is melted. Combine it in a measuring jug with the remaining cold milk. Pour the milk mixture into the dry ingredients, along with the egg and mix until a dough begins to form. Finally mix in the raisins and chocolate chips.
3. Tip out onto a lightly floured surface and knead for 10 minutes until the dough becomes smooth and elastic. Divide the dough into 10 portions (weighing about 100g each) and tuck under the edges so you are left with a smooth bun. Place onto a lined baking tray, repeating until you have 10 buns. Cover the tray with cling film and leave to rise somewhere warm for an hour.
4. Preheat the oven to 200 degrees C.
5. Once the buns have doubled in size, glaze them with the beaten egg. Make the paste for the cross by mixing the flour with water until it is thick and smooth. Tip into a piping bag, snip off the tip and pipe a cross onto each bun. Bake in the preheated oven for 20 minutes until golden brown. Remove from the oven and allow to cool slightly on the baking tray, then move to a cooling rack.
This is the first weekend since Christmas where Mark and I haven't actually had plans - it's been lovely so far! We caught up on sleep this morning, I baked my hot cross buns, bleached my roots and we are now watching Iron Man 1 & 2. Tonight we are making veggie chilli with rice, empanadas, nachos and nacho cheese sauce.
Tomorrow I am doing some work for
Food Blogger Connect.
If you missed my announcement a few weeks ago, I will be volunteering at
Food Blogger Connect
along with some of my favourite bloggers
Sophie
and
Hannah
. The event enables food bloggers from all over the world to get together to network, learn and eat. It takes place over 3 days in July and there are still tickets left. I am really excited about it and hope to see some of you there!