I was so pleased that it was pay day on Thursday. I know February is a short month but Mark and I seemed to have had so much to pay for. We are saving to get married in New York City next year so having to pay for things like car MOTs, new glasses and renewed driving licences is frustrating.
However I did get myself a pay day treat:
Stacie Bakes
by Stacie Stewart. This book has been on my wishlist for months and I've been so excited to get my hands on it. Stacie was a finalist on MasterChef a couple of years ago and she owns
The Beehive Bakery
. She is so appearing on the new series 'Food Glorious Food' on tv. Did you watch it last week? What did you think?
I have gotten really into making bread and anything dough-based recently. In the past I've tended to stay away as it can be time consuming and messy. However, this recipe is anything but - it's a bit of a bread cheat really as it doesn't involve any yeast or kneading. I made these loaves last weekend to take to a friends house for dinner. You could change or alter the main flavouring additions to suit whatever you fancy. To make 3 loaves it took less than 2 hours, leaving plenty of time to do everything else I had to.
This recipe will make a round loaf that can be cut into four chunks. If you'd like a bigger loaf, simply double the ingredients - I've done it many times before with good results.
This recipe is adapted from a WeightWatchers one (don't let that put you off) which I have used for ages.
Ingredients
200g self raising flour
Pinch of salt
1/2 teaspoon of bicarbonate of soda
100g low fat natural yogurt mixed with 3 tablespoons water
Oil for greasing
For an Olive loaf
60g pitted olives (black or green) roughly chopped
For a Sundried Tomato and Basil loaf
10 sundried tomatoes, roughly chopped
10 fresh basil leaves, roughly chopped
For a Cheese and Balsamic Onion loaf
1 large red onion, finely chopped and fried until soft. Once soft, add 1 tablespoon Balsamic Vinegar to the pan and cook until the pan is dry.
100g cheddar cheese, grated
Method
1. Preheat the oven to 200 degrees C, and grease a baking tray with the oil.
2. Sift the flour, salt and bicarbonate of soda into a bowl. Mix in the olives, tomatoes and basil or cheese and balsamic onion.
3. Add the yogurt and water to the dry ingredients and mix until the dough comes together. Add a dash of water if the dough is dry.
4. With your hands, form the dough into a rounded loaf and place on the greased baking tray. If you choose to make the cheese and balsamic onion loaf it will take longer to bake - bake uncovered for 20 minutes, then cover with tin foil and return to the oven for another 20 minutes until the loaf sounds hollow when tapped. For the other loaves, bake for 25 minutes until the bread is golden brown and the loaf sounds hollow when the bottom is tapped.
This soda bread has a really crusty outer shell and the inside is lovely and springy. I always serve it with risotto - it goes perfectly with the creamy cheesiness!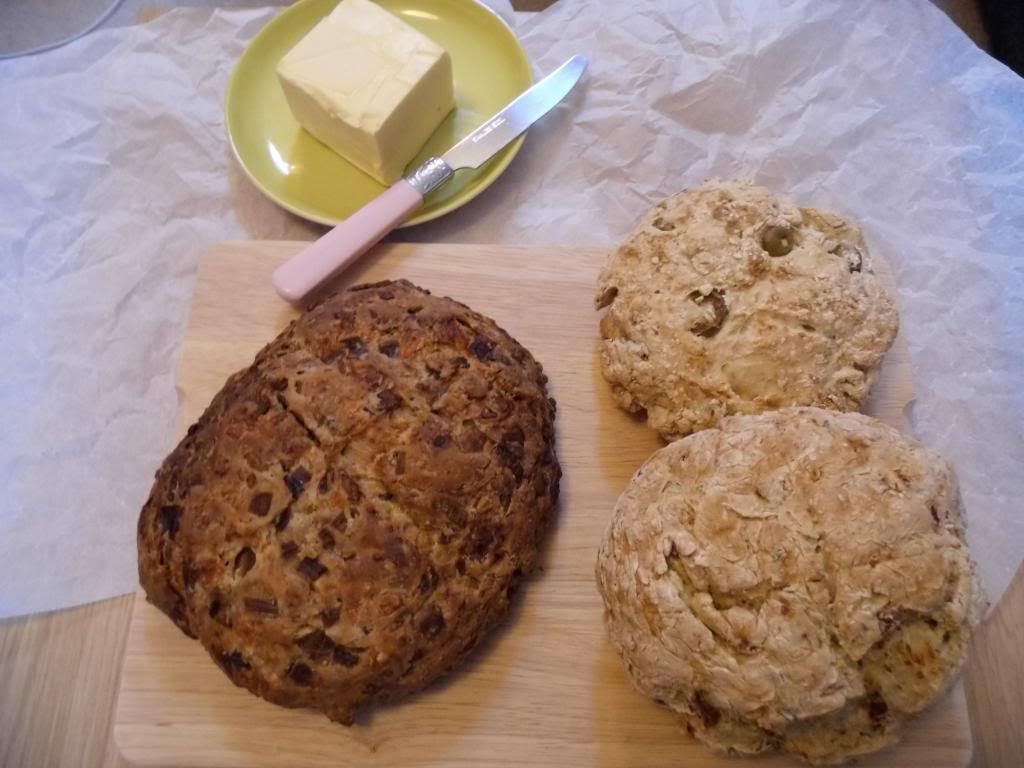 I was planning on baking tomorrow but I am going out tonight to see
Deer Chicago
play at the Oxford 02, so I am not sure what sort of state I will be in tomorrow.
GIVEAWAY
I will end on an exciting note - I am doing my first giveaway and it seems appropriate for it to be included with this post.
I have one copy of
The Big Book of Bread
to give away to a reader, with thanks to the lovely people over at
Baking Mad
. As I am becoming more adventurous with breads I would like a copy for myself! It includes recipes to make by hand and also in a machine, and covers everything from basic breads, to sweet breads, buns, pastries and even muffins.
To enter the giveaway, please leave a comment letting me know what your favourite bread or dough-based bake is and why.
Entries are open to residents in the UK and Ireland only and closes on Sunday 10th March 2013. I will choose a winner at random from the entries. Good luck and thanks for entering!