This weekend was really nice. Firstly; the new issue of
Homemaker Magazine
came out on Friday, and my blog got a little write up. I was so flattered and excited when their team asked if they could feature it. I love blogging and never thought anyone would enjoy my blog enough to write about it!
Secondly; on Saturday my sister and I caught up with one of our oldest (and closest) friends Kate. She is one of my best friends and has been for a long time. Without realising we go for long periods without seeing each other, but she is one of those people that when you see her, it's like you picked up where you left off 3 years ago. She's coming to my house one Saturday in May so we can spend the day baking and eating Mexican food. I am so excited! I love having things like that to look forward to.
As well as seeing Kate, watching films and eating Chinese food with my sister, I did some work for
Food Blogger Connect
. Somehow amongst all that I found the time to make a cake! I thought as I hadn't done a big layer cake since my
Ferrero Rocher cake
, I'd make one over the weekend. And dang I didn't regret it!
This recipe will make a 3 tier layer cake - you will need 3x 20cm cake tins. It is adapted from
Baked in America
by David Muniz and David Lesniak.
For the cake
4 large free range organic eggs
250ml whole milk
90ml rapeseed oil
1 tablespoon vanilla extract
500g plain flour
1 1/2 teaspoons baking powder
1/2 teaspoon salt
250g caster sugar
250g light brown sugar
130g unsalted butter, room temperature
170g smooth peanut butter
For the frosting
750g icing sugar
255g unsalted butter
130ml whole milk
1 teaspoon vanilla extract
60g cocoa powder
For the decoration
30g crushed peanuts
Method
1. Preheat the oven to 180 degrees C. Grease and line 3 20cm cake pans.
2. In one bowl mix the eggs, milk, oil and vanilla. In another bowl, combine the flour, baking powder and salt. Set both aside.
3. Beat the butter and the sugars in the bowl of a stand mixer until light and fluffy. About 7 minutes. Alternately add the wet and dry ingredients in thirds, scraping down the bowl after each addition.
4. Divide the batter between the 3 pans and bake in the preheated oven for 40 minutes until a skewer comes out clean. Leave to cool in the pans for 10 minutes, then transfer to a cooling rack.
5. To make the frosting, mix the icing sugar and butter until combined. Add the milk and vanilla and beat on a high speed for 5 minutes until light and fluffy. Finally, add the cocoa powder and beat until just combined.
6. Now to assemble the cake: Place the bottom layer onto a cake stand and spread 1/3 of the frosting over the top and sides, and repeat with the next 2 layers making sure the finish is smooth.
7. Sprinkle the crushed peanuts around the edge of the top of the cake, finishing with a small sprinkle in the centre.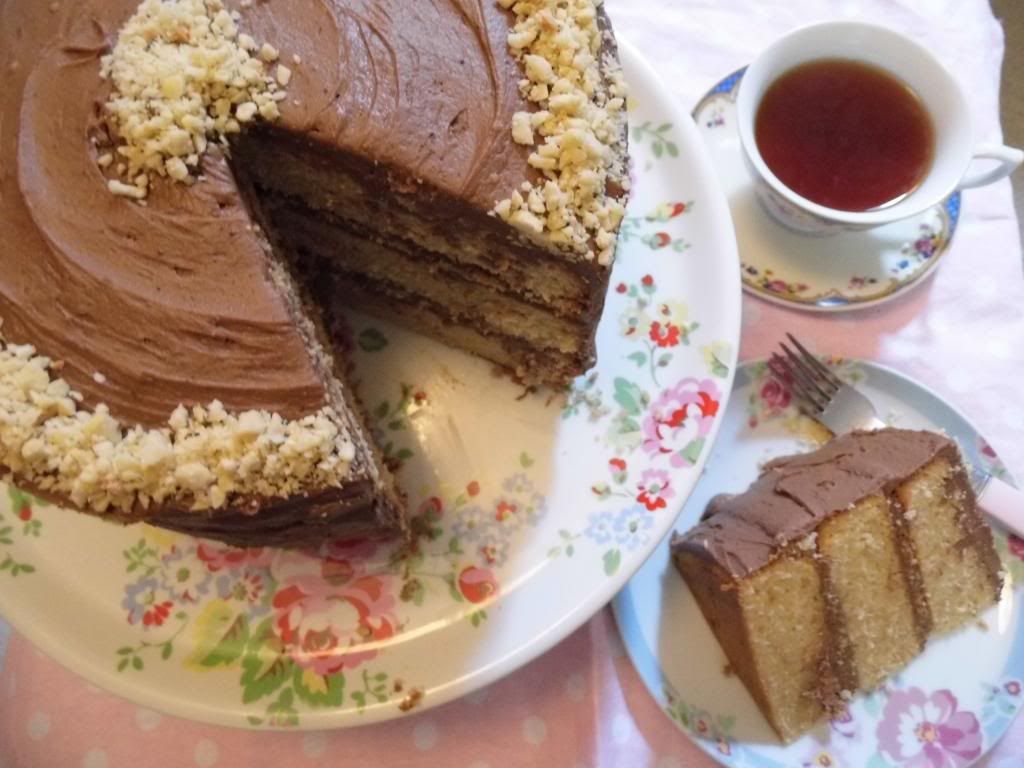 Peanut butter and chocolate has to be one of the best combinations on the planet, they just go together perfectly. This cake is no exception. The sponge is really light and flavourful and the chocolate frosting has just the right amount of cocoa in it, so that it doesn't over power the peanut butter.
It's only Tuesday and I am already looking forward to the weekend! Friday is Mark's birthday and we are going for a meal on Saturday to celebrate. We are going to our local pub, which happens to only serve vegetarian food (hurrah!) and is ironically named
The Shoulder of Mutton
. About 3 years ago it used to be a 'local' pub for 'older' gentlemen, and it had been for years. But it got taken over and the landlord decided to keep the name. If you are ever near Wantage I would really recommend a visit!