I am so pleased this weekend was a bank holiday! The weather has been perfect and I've had nice plans with my favourite people. I had a lovely day Saturday with my sister and our friend Kate. Kate came over and we baked cupcakes and bread, painted our nails, watched Pitch Perfect (my new absolute favourite film!) and then made Mexican food for dinner. Luna spent the entire time entertaining us - she has decided her new favourite place to sit is in the dish drainer! On Sunday I went to a village fete with my Mum, sister and her other half. The best part of the fete besides having tea and cake, was the dog show. It was hilarious and the dogs just did whatever they wanted! Sunday night Mark and I went to a friends house for takeout food. And I have spent today working for
Food Blogger Connect
.
Bundt cakes make me nervous. I have fallen out with them in the past as they've crumbled apart when I've taken them out of the pan. I decided the bank holiday weekend was the best time to face my fear, and I'm glad I did! Coffee and chocolate is one of my favourite combinations, and can only be improved upon with Speculoos. I have always loved Lotus Biscuits/Speculoos, but I can't get enough of the biscuits at the moment. My boss and I ate an entire pack between us in 45 minute meeting a couple of weeks ago!
This recipe is adapted from
The Hummingbird Bakery Cookbook
by Tarek Malouf and will make a 25cm bundt cake.
For the cake
2 tablespoons coffee granules
170ml cold water
450g unsalted butter, room temperature
450g caster sugar
8 large free range organic eggs
2 teaspoons vanilla extract
450g plain flour
2 tablespoons baking powder
2 tablespoons cococa powder
For the frosting
300g icing sugar
50g unsalted butter, room temperature
100g Speculoos spread
50ml milk
2 squares milk chocolate to decorate, grated
Method
1. Preheat the oven to 170 degrees C. Grease the bundt pan generously and set aside.
2. Make a coffee essence by boiling the water and coffee granules until reduced by half. Set aside until completely cooled.
3. Beat the butter, sugar and coffee essence until smooth. Add the eggs one at a time beating well after each is added. Mix in the vanilla extract. Beat in the flour, baking powder and cococa powder, mixing until combined and the mixture is fluffy.
4. Pour the mixture into the greased pan, ensuring the top is smooth and bake in the preheated oven for 50 minutes. Cover with tin foil if the cake starts to catch.
5. Remove the cake from the oven and allow to cool in the pan for 30 minutes. Turn out onto a cooling rack.
6. Once the bundt is cool, the frosting can be made. Beat the icing sugar and butter until they come together. Add the Speculoos, milk and vanilla extract. Beat on a high speed until the frosting is light and fluffy, for around 7 minutes. The frosting can then be smoothed on top of the cake. For decoration grate 2 squares of milk chocolate over the frosting.
When I come to make this bundt again I would make one adjustment, and use 2 tablespoons of instant espresso powder rather than coffee granules. You can taste the coffee, but I'd like it to have a bit more of a punch!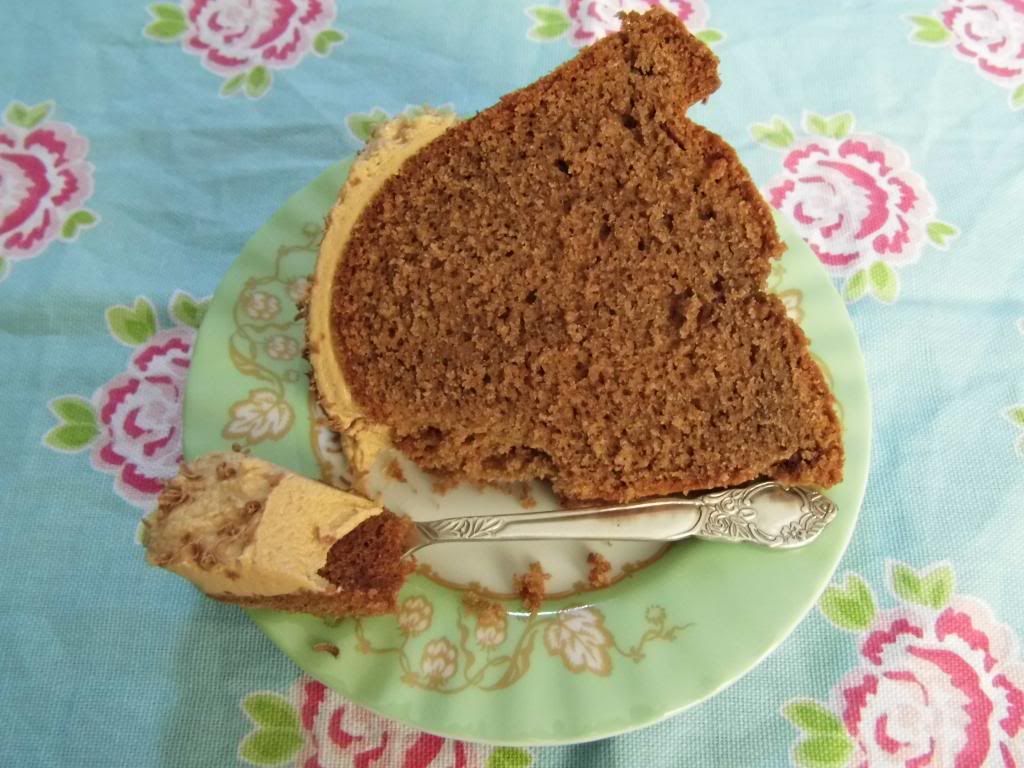 I am now going to sit down with a big chunk of cake and a cup of tea, and watch The Big Bang Theory. Perfect way to spend a bank holiday! And I am already looking forward to this weekend as I am going to
Blog Summit
in Birmingham! I'm really excited as I am attending with
Sophie
and
Laura
. So it will be a day full of friends, workshops, talks and food.