It's Sunday morning and I am already dreaming of last nights left over homemade pizza which I'm having for lunch. I think there a few things in life better than cold pizza. Besides eating pizza, today I will be making plans for next weekend. On Saturday one of my best friends is getting married. My other best friend Natalie and I are Ushers, and will be giving out the orders of service and showing people to their seats. I am so excited and I have the prettiest dress to wear!
You may have noticed that I missed the bake along in week three, not only did I run out of time but I felt meringues in custard were not my cup of tea. Week four of the Great British Bake Off has been my favourite so far, I can now remember everyone's names and how is anything better than pie?!
I've wanted to make this pie for ages but never got round to it. I was inspired after seeing it on a couple of American cookery shows, and when I told Mark that week four of the Bake Off was pie, he insisted I make it. I know a cheddar crust on an apple pie sounds bizarre, but I promise you it's amazing. The sweet filling and tangy salty cheese crust go together brilliantly. Mark, my sister and I devoured it in under 24 hours.
This recipe will make a 9 inch pie. The recipe is adapted from
The Back in the Day Bakery Cookbook
by Cheryl and Griffith Day.
For the pastry
300g plain flour
1 tablespoon caster sugar
1/2 teaspoon salt
170g cold unsalted butter, cubed
160g mature cheddar cheese, grated
1/2 cup iced water
1 beaten egg to glaze
Sprinkle of caster sugar
For the filling
7 Granny Smith apples
45g unsalted butter
1 teaspoon corn flour
210g light brown sugar
Seeds from 1 vanilla bean
1 teaspoon cinnamon
Method
1. Begin by making the cheddar crust. Pulse the flour, sugar and salt in a food processor. Add the cold cubed butter and grated cheddar, pulse until the mixture resembles breadcrumbs. Add in the iced water a tablespoon at a time until the dough comes together. Tip the dough onto a lightly floured surface, split into 2 pieces and roll both into a 10 inch round. Wrap in cling film and place in the fridge until ready to use.
2. Preheat the oven to 190 degrees C. Peel, core and finely slice the apples and set aside. Place the butter in a large saucepan and warm on a medium heat until it begins to brown. Turn the heat to low, add half of the apple slices and cook for 10 minutes. Add the remaining apples along with the corn flour and brown sugar, stirring until the sugar melts. Add the vanilla seeds and cinnamon, turning the heat up slightly and cook until the filling is syrupy and thick.
3. Remove the crusts from the fridge and line the base of a greased pie dish. Leave a 1 inch overhang. Pour in the apple filling then top with the final disc of pastry and crimp the edges with a fork. Still leaving a slight overhang, trim any excessive pastry.
4. Brush with the beaten egg, sprinkle the top with a handful of sugar and cut 2 or 3 vents in the top to allow any steam to escape. Bake in the preheated oven for 1 hour, or until the crust is golden.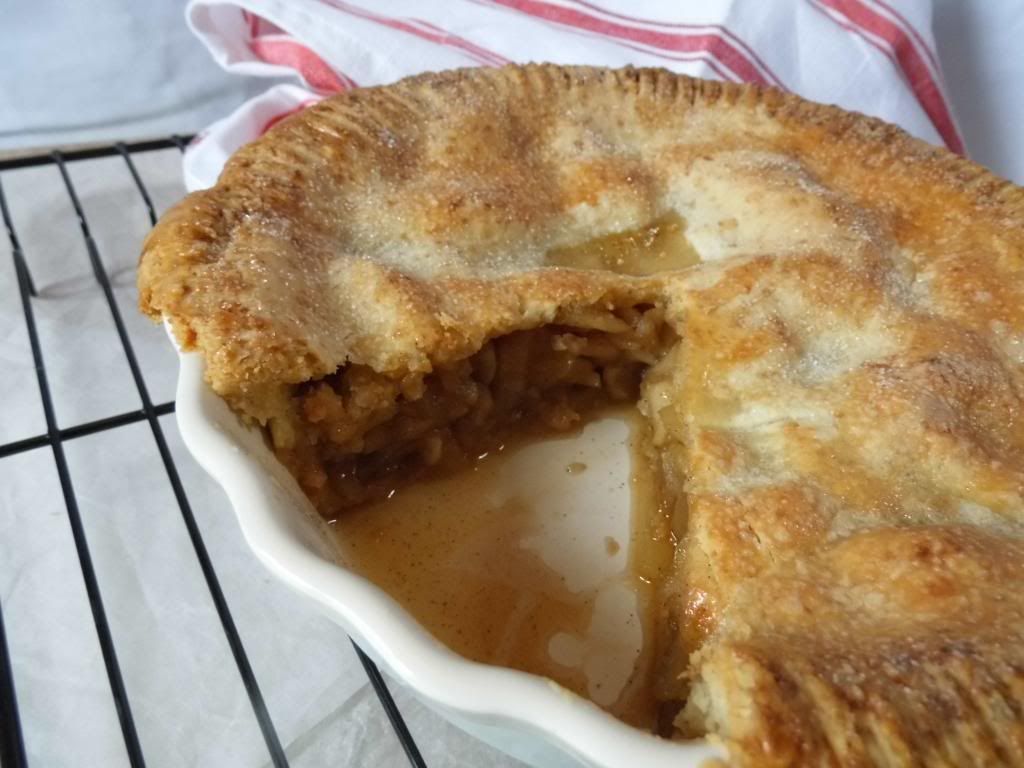 When I saw the preview for week five's Bake Off I had a slight panic as it was announced it would include biscuits. As soon as they mentioned tray bakes, I knew that would be the one for me! I'm making my tray bake this afternoon and I think it's going to be a good one. I look forward to sharing it with you next weekend.