I can't believe the weekend is almost over already. I spent yesterday with my best friend Natalie, we went for a pub lunch with a couple of other friends. Then came back to my house, watched an entire season of Keeping Up With the Kardashians (guilty pleasure), the XFactor, ate pizza and popcorn all whilst drinking fizzy wine. It was the best kind of day.
So the second week of the Great British Bake Off is here! I really enjoyed this weeks episode and I've decided Beca and Kimberley are my favourites. How funny was it when Sue accidentally leant on Howard's muffin and squished it!
I made these breakfast Muffins over the bank holiday weekend, most of which I spent baking! I was really pleased I was able to take my time with these, there is nothing worse than being rushed when you're in the kitchen.
This recipe will make 6 English Muffins. The recipe is adapted from
British Baking
by Peyton and Byrne.
You will need a large griddle or non stick frying pan to cook them.
Ingredients
375g strong white bread flour
1 teaspoon salt
7g packet dried yeast
240ml warm water
75g Red Leicester cheese, grated
1 teaspoon black pepper
1/2 tablespoon vegetable or rapeseed oil
Polenta for sprinkling
Method
1. Place the flour and salt in a large bowl and mix. Combine the yeast and warm water in a measuring jug, stirring until there are no lumps. Pour into the flour and salt and mix until a dough forms. Allow to sit for 10 minutes.
2. Add the 1/2 tablespoon of oil and knead in the bowl until absorbed. Remove from the bowl and stretch into a disk. Knead in the cheese and black pepper in halves. Knead the dough for 5 minutes until smooth. Place back in the bowl and allow to sit for 20 minutes.
3. Knead the dough once more, rub with a little oil and place back in the bowl. Cover it with the tea towel and allow to rise for 1 hour.
4. Sprinkle some polenta onto a baking tray. Remove the dough from the bowl and divide into 6 equal parts. Roll into a ball and pat down into a disk. Place on the baking tray and sprinkle with more polenta. Cover with the tea towel and allow to rise for a further hour.
5. Heat the griddle or pan on a medium heat and carefully rub with oil. Sprinkle some polenta over the pan, place on the disks of dough and allow to cook for 10 minutes until brown. Turn over and cook for another 10 minutes.
6. Allow to cool slightly before serving with butter.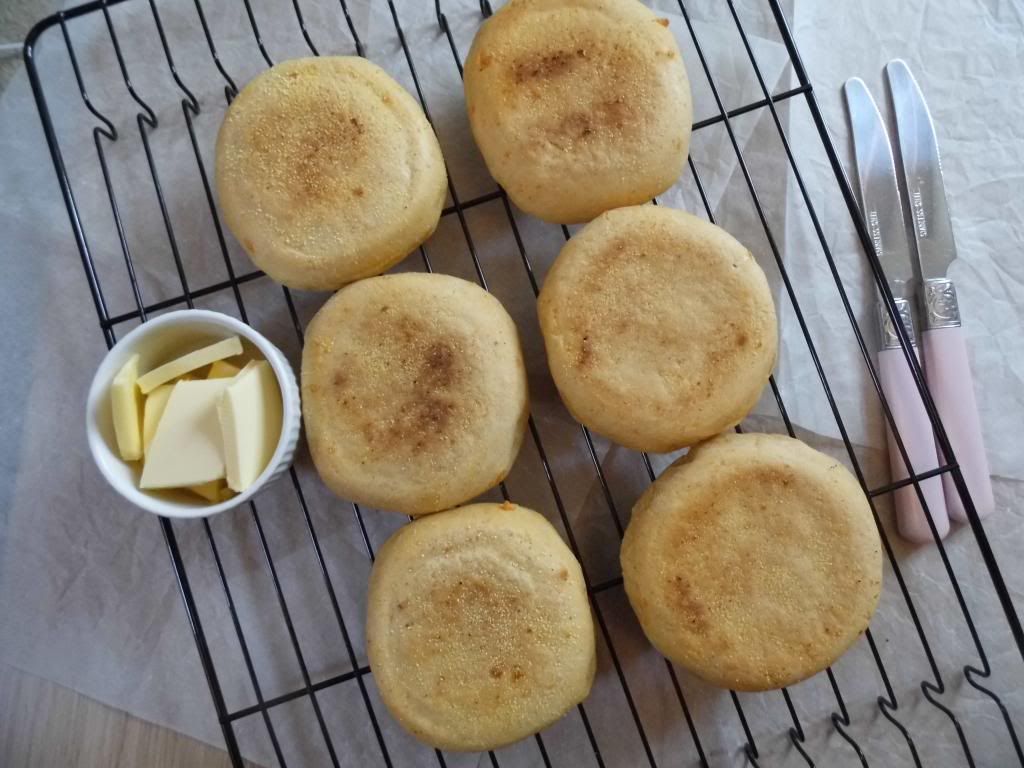 I felt so triumphant when my English Muffins turned out well. I don't have a good history with bread making so when these came out looking like they did I was over the moon. I even made my sister come over and have one for tea. I think they would be really good with scrambled eggs and some (veggie) bacon.
So this is my second entry for the
Bakers Anonymous
GBBO Bake Along, and I think these are one of my favourite bakes on my blog so far!